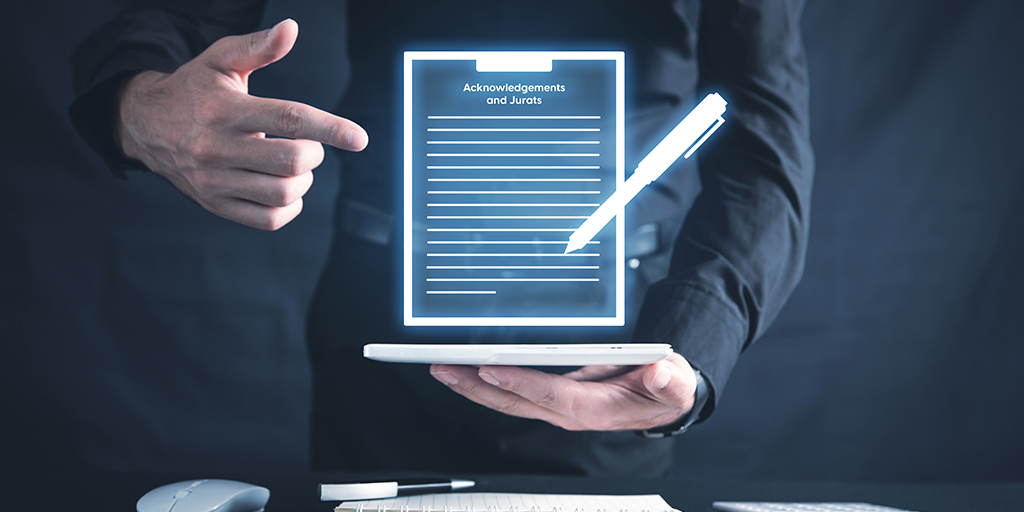 Curious about the distinction between acknowledgements and jurats? These are the two important notarial elements of the notary's dilemma.
So, it's crucial to understand the distinctions between two essential elements of the notarization process: acknowledgements and jurats. These terms might sound similar, but they serve distinct purposes and have specific requirements.
In this blog post, we will explore the differences between acknowledgements and jurats, shedding light on their significance and how they contribute to a better online notarization experience. Understanding these concepts will empower individuals and businesses to navigate the realm of online notarizations with confidence, ensuring that legal documents are properly authenticated and executed.
So, whether you're a professional in need of notarized documents or simply curious about the intricacies of online notarization, read on to discover jurat vs. acknowledgment and how they shape the landscape of a seamless and efficient notarization process.
A Notary Acknowledgement
In a notary service, "Acknowledgement" is done through a certificate which explicitly indicates that a signer is an individual who appeared before the notary in person and that the notary service provider has duly identified and recognized the signer.
The signer can sign the document before or during their meeting with the notary. Through the acknowledgement certificate, a remote online notary service provider gets confirmation that the due document is signed with free will and without any coercion.   
A Notary Jurat
A jurat proves the signer appeared before a Notary, was identified, and verified document accuracy. It's vital for authenticity. Jurat is a confirming authentic certificate that documents are properly signed in the presence of that notary.
The Importance of Acknowledgments and Jurats in Online Notarization
Certificates of Acknowledgements and Jurats bring authenticity to a document and its notarization process. The notarization may have evolved from traditional to online notarization, but the acknowledgements and jurats are still relevant.
In comparison with traditional notarization, today's online notary service has surely simplified notarization completely, and the security and quality assurance attributes are not compromised. Thanks to the foolproof safety standards of the online notary service, customers are happy to experience a swift and safe electronic notarization service.
Acknowledgements and Jurat certificates increase the quality of the notarization service. These certificates make an already high-standard document notarization service more powerful.
Discover the step-by-step process of how to do an online notarization to ensure a seamless and efficient experience for your document notarization needs.
Acknowledgements and Jurats: Unveiling the Secrets of Notarial Differences
With acknowledgements and jurats, the security, trust and value of electronic notarization will increase. But notaries should learn the difference between Jurats and Acknowledgements to effectively use them and offer excellent electronic notarization services.
Acknowledgement is used for documents that shall be signed in front of or in the presence of a notary.
On the other hand, Jurat deals with swearing or promising statements. A jurat is a notary's statement that confirms the signer appeared in person and signed the document in their presence.
It is always a good practice to acknowledge that a document is signed in the personal presence of the notary, but it's NOT REQUIRED. But the documents that are attached with Jurat Certificates SHOULD BE SIGNED in the personal presence of the notary.
Experience the peace of mind that comes with our secure online notarization services for Jurats and Acknowledgments.
Don't miss eNotary On Call and its Top Remote Online Notary Services
Document notarization is not a hectic task anymore! No document will take more than 15 minutes to get notarized! No one needs to wait days to get in touch with notaries. A highly valuable but utterly cost-effective remote online notary service awaits everyone at eNotary On Call!
And notaries, don't worry about your business growth anymore! Go online! Every traditional notary can effortlessly evolve into a remote online notary service provider with the mentoring and help of eNotary On Call!
Enjoy the new online notary approach with the best-in-business eNotary On Call now!