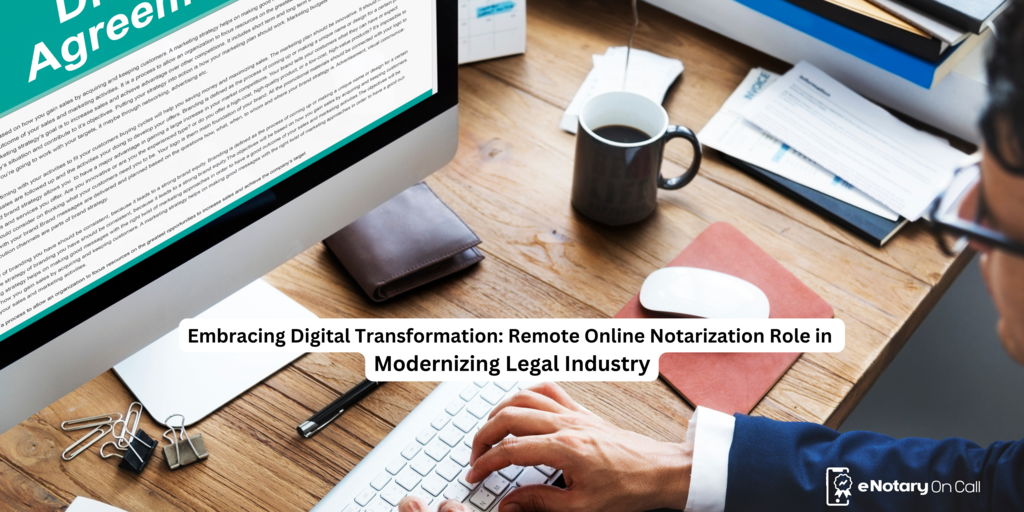 In the ever-evolving legal sector, embracing digital transformation is crucial for staying ahead. Seemingly, there are many formalities which are involved in lawful work which consumes a lot of hours. Therefore, it is important to use the appropriate resource to get documents authorized when required.
One such transformative technology is Remote Online Notarization. Utilizing these advanced audio-video innovations integrated into the notarizing platform provides convenience, efficiency, and security to the legal industry. For readers' better understanding of what role online notarization role in the legal sector here, this article has briefed essential points. 
Take a quick read to learn.
Virtual Notary Service Transformation Role in Legal Sector
The Need
As different industries across the globe embrace digitalization, the legal sector should also take a step to keep up with the pace. Traditional notarization processes undoubtedly consume time and require physical presence and coordination.
However, with the introduction of remote notary services, the legal industry is experiencing a significant shift towards efficiency and convenience. By leveraging Remote Online Notarization, legal professionals can save hours, and paperwork hassle and, at the same time, enhance accessibility for clients. 
The Impact of the RON Platform
Digital notary platform provides a seamless and secure environment for both signers and participants. By utilizing advanced technologies, such as video conferencing and digital signatures, the authenticity and integrity of notarized documents can be ensured. 
Legal professionals can conduct notary services remotely, ultimately eliminating the need for physical presence. This flexibility enables clients to access notary services conveniently from anywhere, any time, leading to faster turnaround times and improved customer satisfaction.
Compliance and Security Assurance
Unquestionably, security and compliance hold paramount importance in legal work. A trusted platform understands this critical aspect and prioritizes the data protection and privacy of every user. Hence, it is recommended to access the platform adheres to the highest industry standards.
In addition to this, it incorporates robust encryption protocols, KBA, biometric or multi-factor authentication. Implementing stringent security measures, a reliable notarization platform guarantees confidential information remains safeguarded throughout the notarization process. Furthermore, their platform complies with relevant legal regulations, ensuring the validity and enforceability of notarized documents.
How Remote Online Notarization Advantageous to Legal Professionals and Clients
The benefits of these robust platforms extend to both legal professionals and their clients. For attorneys, the platform offers enhanced productivity, enabling them to focus on core legal tasks instead of administrative hassles. They can schedule notarization appointments efficiently, collaborate remotely with clients, and eliminate geographical limitations.
On the client side, such platforms provide a convenient, user-friendly experience. Clients can sign and perform document notarization from the comfort of their place while saving time and reducing travel expenses.
In a Nutshell
As the legal sector undergoes a digital transformation, many Remote Online Notarization platforms, such as eNotary On Call, stand as an appropriate alternative to the conventional notary process. By streamlining the notarization process, this platform empowers legal professionals to embrace modern practices, enhance efficiency, and improve client satisfaction. 
As more organizations recognize the value of Remote Online Notarization, eNotary On Call is pivotal in modernizing the legal industry, redefining how notarization is conducted in the digital age.