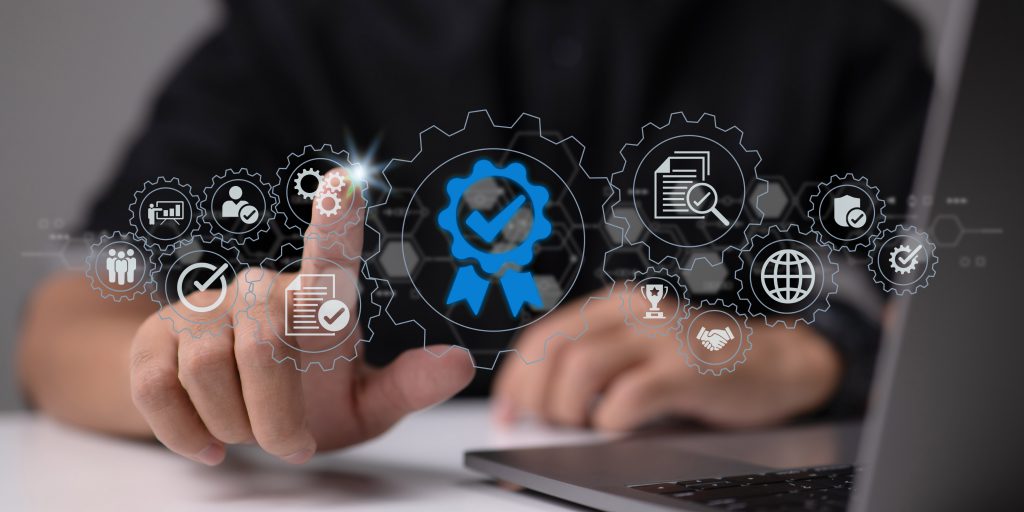 Digital certificates are essential for online notarization. Digital certificates ensure the authenticity and integrity of documents, ensure safe remote access and transactions, and enable secure digital signatures. In addition, it provides a secure way to verify the identity of the signer, safeguard documents from tampering and validate the integrity of the document.
To understand how a digital certificate works, one needs to learn what a digital certificate is and what its functions are. So move forward to have a detailed understanding of everything about digital certificates.
Digital Certificate in Remote Online Notarization
By existence and by creation itself, a digital certificate creates concrete trust.
It is so because the issuer properly verifies the owner's identity before issuing the digital certificate.
A digital certificate's major function is automatically creating electronic or digital credentials.
The purpose of these documents is to affirm or confirm the identity of an individual or other entity.
The third party that issues digital certificates is called Certificate Authority [CA].
The Information That a Digital Certificate Possesses
Name of the Certificate's Owner
The public key of the owner and its expiration date
Name of the Digital Certificate's Certificate Authority [CA]
Digital Signature of that Certificate Authority
If you are looking for guidance and support for such intricate matters, then getting in touch with eNotary On Call would be the best decision for you to make.
Reach out to our expert and you will be appropriately guided for holistic guidance toward acquiring a digital certificate for online notary services. There are different types of digital certificates. Do you know that? Here you go!
Digital Certificate Types
Secure Socket Layer [SSL]
It helps in authenticating the website to the concerned user.
This server-side certificate is installed on servers.
Whenever you come across a lock symbol next to any URL or HTML link of any website, understand that the site's owner has an SSL certificate.
That certificate helps in building a secured, encrypted connection to that website.
If you don't see any such symbol, then NEVER enter your credit card, bank information, or other personal sensitive information on that site.
Code Signing Certificate
Software developers use this certificate.
Software developers use this for their application code to express their authorship authentication and as proof that their application code is tamper-proof.
Client Or User Certificates
It is used to authenticate one person with another person or one device with another.
These certificates are also known as Identify Certificates or Digital IDs.
Many companies are moving to cloud computing. Many employees are accessing their data remotely. So this type of certificate is garnering popularity.
These certificates can be obtained from a quality [RON] Remote Online Notarization service provider, eNotary On Call. eNotary On Call has become synonymous with the quality of service it offers to individuals and companies with utmost dedication. So eNotary On Call is the right space to obtain such sensitive and important certificates.
The point to note is that a notary can only obtain one of the three types of certificates mentioned above. These certificates use PKIs – Public Key Infrastructures, which help to pair public and private keys in different ways.
The Functionality of Digital Certificates
Digital certificates work along with digital signatures. Together they avoid forgery as well as tampering.
Digital signatures are much more upgraded and equipped than electronic signatures.
Electronic Signatures are digitization of traditional signatures and they carry the same value and weight as general signatures.
Digital signatures carry more features with them like Authentication, Non-repudiation and tamper-proof.
Authentication, Non-repudiation and Tamper-proof in Virtual Notarization
Authentication means "the person who will be signing, sealing and sending the document" will be thoroughly ID-verified.
Non-repudiation makes it impossible for the person to later disavow or disapprove the signature once the identity is verified and authenticated for digital signing.
The digital certificate is associated with the document, which makes it properly binding and integrated. So it becomes tamper-proof.
Thus, a digital certificate, along with a digital signature, legally binds the documents with a legal seal. When used in a Remote Online Notarization, a digital certificate and digital signature create proper trust by completely binding the parties to the notary.
Digital Certificates are a vital part of Remote Online Notarization
Digital certificates play an important role in virtual notarization. It enables secure and reliable online document signing, verifying identities and authentication.
Choose eNotary On Call for a successful Remote Online Notarization service with digital certificates. Always go with experienced professionals. Contact us today if you need any guidance or a remote notarization service.