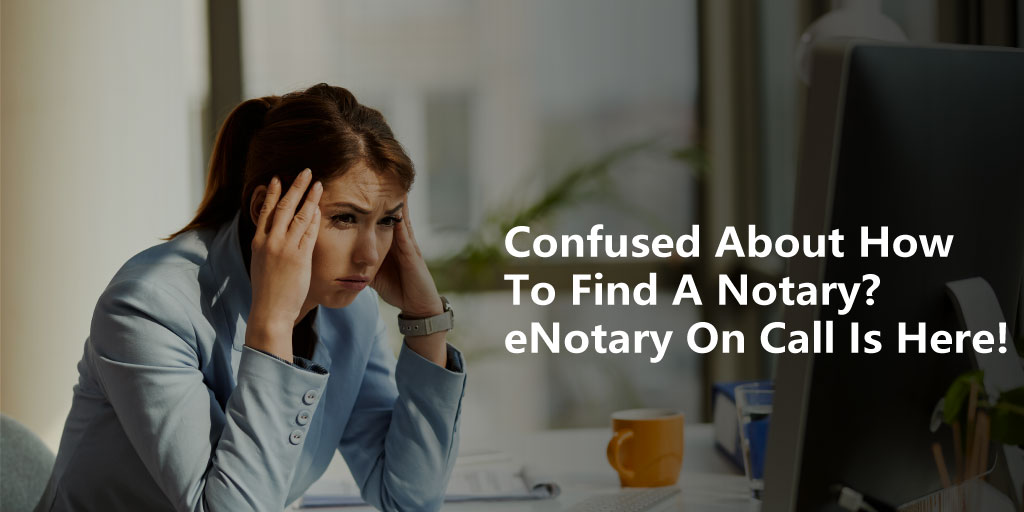 Until the notarization need arises, you won't be looking for a notary, right? And when your need for notarization comes up, you will be worried. We understand your immediate and last notarization requirements. Now, traditional notarization has evolved into Remote Online Notarization [RON]. 
So, the worry is a little less complicated now. All you need is a trusted platform to enjoy efficient online notarization. That is why eNotary On Call is always available for you. You can be located anywhere in the United States and access eNotary On Call for effortless online notarization. 
So, do you have any document notarization needs? Yes? Then you can get the online notarization done through eNotary On Call and close the deal. 
Why Is Online Notarization Better Than Traditional Notarization?
Ironically, many people are still skeptical about choosing online notarization over traditional notarization. With the benefits that remote notarization offers, choosing between the two shouldn't be a big worry or confusion. Traditional notarization is hectic, exhausting, lethargic and time-consuming. If you search for "document notary near me" for your document notarization, you will only end up finding long queues and restlessness welcoming you. 
So, choosing a virtual notary service is a no-brainer. Why? Because remote notarization is beneficial for you in plenty of ways.
Virtual notary service is always swift, efficient and highly secure. No customer will ever face any disappointment with the virtual notarization service. If you choose the online notary over traditional notarization, then you can rest assured that it is readily accessible from anywhere at any time. There will be many professionals claiming to offer traditional notarization. But no traditional notary service can promise you a quick document notarization and fulfil them immediately without fail. Because that's impossible for them to offer quick and quality document notary service to you. 
On the other hand, virtual notary services never explicitly promises to serve you quickly, but you will end up getting a high security and quality document notarization with minimal effort in just 15-20 minutes! 
A traditional notary cannot serve document notarization services to even 3-4 members in even a week. But the best virtual notary platform, eNotary On Call, can surely serve notarization to unlimited people at highly affordable prices in just a day. Such is the potency of remote online notary services. So, what are the essential documents required for an online notary? Have a look:
These Are The Necessary Documents For Virtual Notary Service:
Valid and legit government Identity proof. Diver's license, passport, etc.
Pdf soft copy file of the document you want to notarize.
Check your internet connection, camera quality, microphone quality, and audio quality.
Maintain the latest internet browser version of Chrome, Firefox, or even Safari, whichever you use.
Keep your credit card ready for quick payments.
Why eNotary On Call Is The Right Place For Remote Online Notarization?
After learning about the advantages of electronic notarization, you will be sure to go for the online notary service. But then, another key question for you might be "Where to get the online notary service?" The answer is dependent on the qualities of the platform. 
For example, the features, customer satisfaction, and quality of service offered by eNotary On Call are far better than any other online virtual notary service. Because eNotary On Call offers:
Highly secured and swift online notary service
A huge list of every available remote online notary service provider to choose from
You can speak to the remote online notary service provider in advance through eNotary On Call and book a slot by going through their ratings.
The audio-visual platform of eNotary On Call is highly advanced as well as efficient. It is where every online notarization service takes place.
The online notary event will be recorded and saved for the next seven years for future proof and reference.
From being great quality to being affordable, the qualities of eNotary On Call are endless.
So, Start Your Happy And Successful Online Notarization Journey With eNotary On Call Today!
You should be happy to be opting for the easiest notarization method! Choose eNotary On Call, visit the website, make an account right away, talk to the remote online notary service provider in advance, book your slot, and get document notary service done in 15-20 mins! Isn't it wonderful and time-saving? Yes, it is. 
Have fun notarizing your documents!