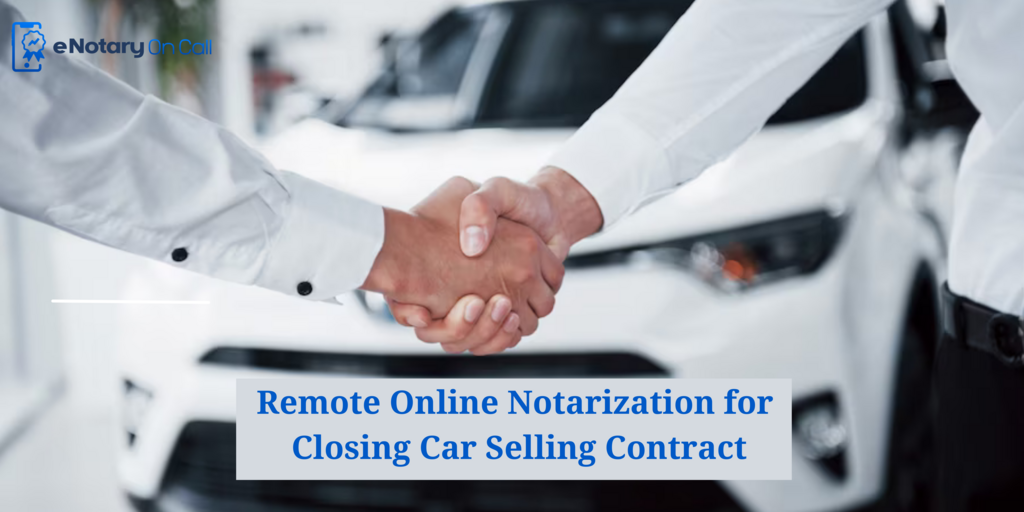 Will you believe if we say a 73 old lady successfully completed the notarization process and closed the car selling contract?

You read it right. There is no doubt notarization in Florida seems a daunting task. And, it seems a lot distressing when it has to be done using advanced technology. However, with feature-rich platforms that are now available to simplify the process, anyone can easily take care of their documents' notarization. 
It has not only made the task easy to handle for every age group but also for every sector. The auto lenders who, on day to day basis, have to transfer the ownership, or buy and sell cars, and close deals, can now utilize the RON service.

In this blog, we will explore how RON can be utilized to simplify and expedite the car-selling process. By leveraging top Remote Online Notarization platforms and virtual notary services, both sellers and buyers can experience a hassle-free, paperless transaction.
Understanding Remote Online Notarization
Remote Online Notarization is a cutting-edge process that allows parties to sign and notarize documents electronically, eliminating the need for physical presence. With RON, all parties involved in a car-selling contract can connect virtually through a secure platform with a commissioned remote notary. This method offers numerous advantages, including enhanced accessibility, reduced costs, and improved efficiency.
The Benefits of RON for Car Selling Contracts
a) Convenience: It eliminates the need for in-person meetings, enabling sellers and buyers to close deals from any location with an internet connection.
b) Time Savings: Traditional notary processes can be time-consuming. And this accelerates the process, enabling swift completion of car-selling contracts.
c) Enhanced Security: Leading online notarization platforms employ robust encryption and authentication measures, ensuring the confidentiality and integrity of sensitive documents. 
d) Cost-Effectiveness: By eliminating travel expenses and reducing administrative overhead, RON presents a cost-effective alternative to traditional notarization methods.
Top Remote Online Notarization Platforms
When considering today's notarization method for a car-selling contract, it is essential to choose a reliable and reputable platform. Some of the top Remote Online Notarization platforms include eNotary On Call, which offers user-friendly interfaces, stringent security protocols, and seamless integration with various document formats. Henceforth, prioritize platforms that comply with industry regulations and prioritize customer support.
Embracing Virtual Notary Services
Virtual notary services have emerged as a key component of the RON process. These services bridge the gap between sellers, buyers, and commissioned remote notaries, facilitating smooth document execution. Virtual notary services provide real-time video conferencing capabilities, enabling face-to-face interactions, identity verification, and document signing. When opting for RON for a automobile contract, utilizing virtual notary services ensures a transparent and legally binding process.
Conclusion
As the digital landscape continues to evolve, the adoption of Remote Online Notarization for automobile deals offers unmatched convenience, security, and efficiency. By choosing top remote online notary platforms and adopting virtual notary services, sellers and buyers can confidently engage in seamless and expedited transactions.