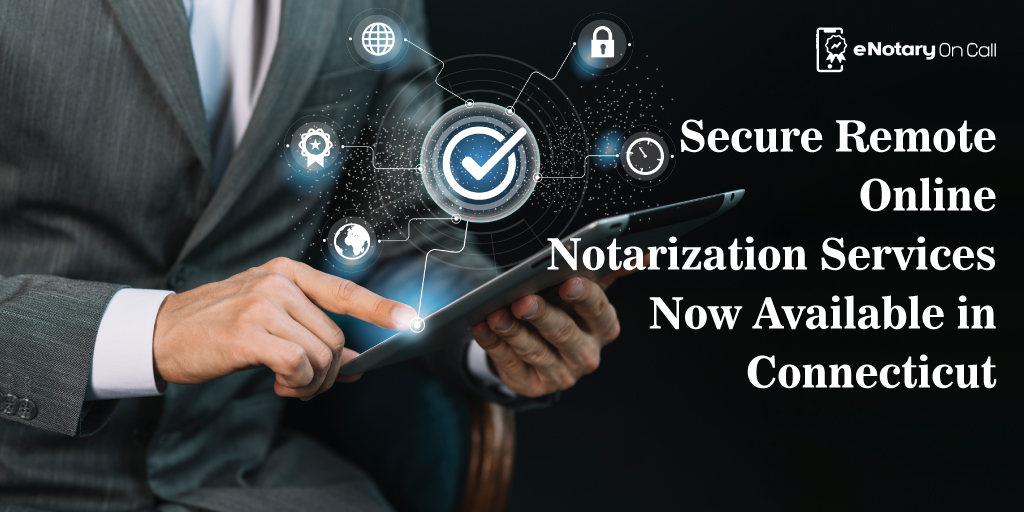 Connecticut has taken a significant leap towards modernization by introducing seamless online notarization services. Remote online notarization is now available in Connecticut, beginning October 1, 2023. It allows individuals and businesses to get documents notarized easily and quickly online.
This revolutionary change promises to simplify the notarization process, making it more accessible, secure, and fast. In this comprehensive article, we will explore how Connecticut welcomes technology to offer its citizens the convenience and security of remote notarization.
Remote Online Notarization in Connecticut is Legal
The Governor signed Public Act 23-28, An Act Concerning Remote Notarial Acts, into law on June 12, 2023. This Act was enacted on October 1, 2023, and allows remote notarization in Connecticut.
This transformation is driven by the state's commitment to offering its citizens the most efficient and accessible services. Individuals can have their documents notarized remotely by a certified online notary with Remote Online Notarization.
This innovative approach provides a safe, affordable and convenient way to notarize your important documents online without requiring an in-person appointment.
The Easy Process of Online Notarization in Connecticut
The process of notarizing your documents online is straightforward:
Begin by signing up on the trusted online notary platform, eNotary On Call.
Fill out the necessary details.
Verify your identity securely through the platform's process.
Schedule an appointment with a certified notary.
Attend the notarization session via an encrypted audio-visual meeting.
Complete the identity verification with Knowledge-Based Authentication (KBA) and biometric verification for security.
Sign and get notarized your documents with ease.
Receive your notarized documents electronically.
The Advantages of Online Notarization
The introduction of seamless remote notary services in Connecticut brings a multitude of advantages:
Accessibility: Online notarization is available to anyone with an internet connection, enabling citizens to notarize their documents from the comfort of their own homes.
Time-Saving: With remote notarization, you can swiftly have your documents notarized at your preferred time, whether a weekday or a weekend and at any hour in just a few clicks. No notary office visits!
Enhanced Security: Online notaries adhere to strict security protocols, ensuring the safety and validity of your documents.
Affordable Price: With reduced travel and waiting times, the expenses associated with notarization are significantly reduced. With eNotary On Call, the document is notarized at $25 only.
Optimal Efficiency: The digital process is quick and efficient, with notarized documents delivered to your email almost instantly.
eNotary On Call for Online Notary Service in Connecticut
eNotary On Call is your trusted partner for online notary services in Connecticut.
Our platform has revolutionized how you do document notarization, offering you a secure and convenient solution without leaving your home or office. With just a few clicks, you can schedule an appointment with a certified notary and have your documents notarized via a secure, encrypted audio-visual meeting.
We prioritize your security and privacy, implementing robust identity verification and Knowledge-Based Authentication (KBA) to ensure the authenticity of every transaction.
eNotary On Call brings online notary services directly to your laptop, mobile, and tablet screens, making it easier to get your important documents notarized in Connecticut.
Experience Secure RON Services in Connecticut Today!
With the availability of online notarization services in Connecticut, the notarization process has never been more straightforward. It's time to embrace this digital transformation, say goodbye to the old way of notarization, and welcome the convenience and efficiency of RON. Your documents are just a click away from being notarized with the utmost security and compliance.
Connecticut's introduction of easy-to-use remote notarization services is a significant leap into the future of notarization. Whether you're a busy professional, a legal expert, or a diligent citizen, virtual notary service is poised to revolutionize the way for notarizing your important documents.
Experience the future of convenience with Remote Online Notarization Connecticut—get notarized anytime, anywhere!