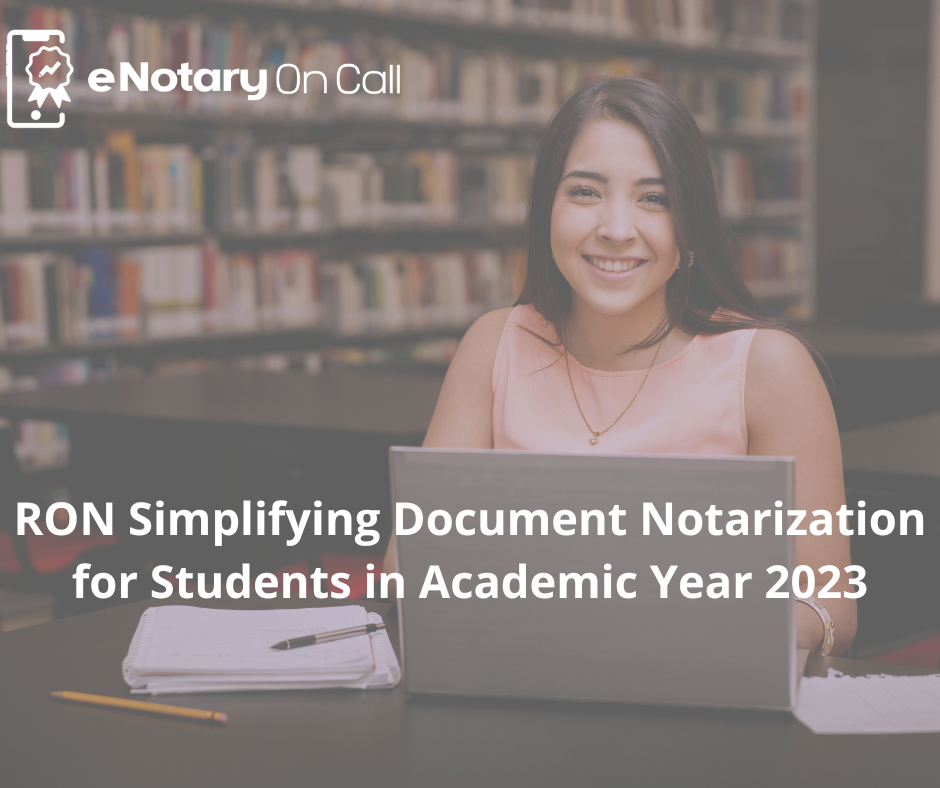 In the swiftly evolving landscape of academia, where the exchange of information and official documentation plays a pivotal role, the year 2023 marks a significant turning point for students.
With the introduction and legalization of "RON Simplifying Document Notarization," the academic community is now worry-free and experiencing a transformative shift in how essential documents are authenticated and streamlined. This revolutionary development promises to simplify the often tedious and seemingly never-ending process of notarization. This offers students unprecedented convenience & efficiency in managing their academic records. 
In this blog post, we'll delve into the details of this innovative system and explore how it benefits students in the academic year 2023 and beyond. But first, here is a brief on the challenges they encounter when they have to get their admission-related document notarized.
Challenges Students Face While Notarizing Their Documents
One significant hurdle is the inconvenience of physical notary appointments. To find the notary in the city and locate them to reach consumers hours and in addition to this, it disrupts their already busy schedules. Additionally, the cost associated with traditional notarization services can burden students as they have limited pocket money.
Another challenge that comes up during academic session when students need to submit their documents is tampering. Therefore, while document notarization it becomes crucial to ensure they remain tamper-proof. 
With the Remote Online Notarization platforms, many of these challenges are being addressed, offering students a more convenient and cost-effective solution for notarizing their important academic documents.
Revolutionizing Academic Documentation: RON Simplifying Document Notarization for Students in 2023
Remote Online Notarization is revolutionizing the notarization process through an innovative platform. It is simplifying the experience for both notaries and signers. This digital system enables secure document verification, identity confirmation, and digital signature, all from the comfort of hand help or table top devices. 
It streamlines the process, by integrating the highest standards of legality and security, making it efficient and accessible.
Effortless Document Notarization:
In recent times, there have been many options available in terms of online notarization service providing platforms. University admission seeking students can easily notarize all their academic documents online. This eliminates the need for physical visits or paperwork hassles for any time of required documents. This saves time and reduces the stress of dealing with traditional notarization processes.
24/7 Accessibility:
Remote Online Notarization platforms are available to students round-the-clock. Any time access, allows students to notarize their documents at their convenience, even outside of typical studying hours. This flexibility accommodates busy student schedules and urgent document needs.
Cost-Effective Solution:
Students always have a budget constraint. Therefore, it is important for them to avail services that do not feel heavy on their pockets. Hence, to save money by using the RON platform is the right decision to take. A platform assists students to find licensed notaries and lower their notarization process fees as they do not have to commute. 
Swift Verification for Applications:
Academic records notarized through RON are quickly verified by institutions and employers, expediting processes like scholarship applications, admissions, and job applications. Students can start their next academic or career endeavor without unnecessary delays.
Conclusion
The introduction of the Remote Online Notarization platform has eased and simplified document notarization for students. This academic year 2023 college students can, without moving from place to place get important documents digitally signed using a platform  
The virtual notary is overcoming challenges such as tampering, unavailability of notaries or long commutes. In this new era, online notarization is leading to efficiency and convenience, ensuring that students can focus on their academic and professional aspirations without being hindered by cumbersome tasks. As the academic landscape continues to evolve, RON is indeed a game-changer that empowers students in their educational journeys.