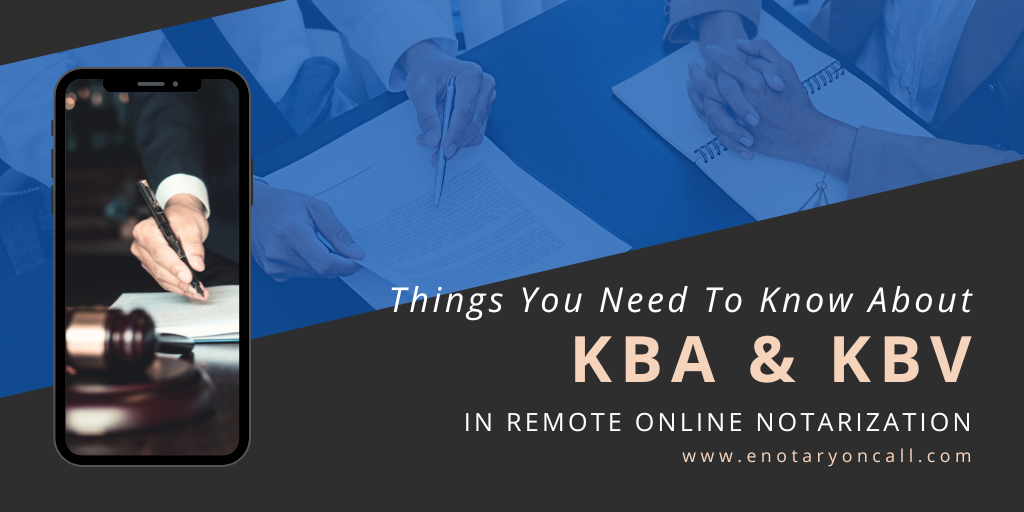 Remote Online Notarization is making our lives easier. If we can be a little aware of the important aspects of it, our experience from the online notarization will be even more. Like people say, "You need not know how to cook to cherish a food dish". But being a technical process, if you can be aware of some key technical aspects of online notarization, you will know what platform will be best suited for your next digital notary experience.
In this article, you are going to learn about KBA – Knowledge-Based Authentication, KBV – Knowledge-Based Verification, and the key differences between them. This understanding will help you to know the role they play in making Remote Online Notarization a safe and secure experience. 
If you are looking for such a highly secure and quick remote notarization experience, then choosing eNotary On Call is the best decision for you. 
What is NIST?
NIST – National Institute For Standards, is making necessary changes to the Identity proofing-related guidelines. These changes make Remote Online Notarization a far safe and sound process. In this regard, Knowledge-based authentication is replaced by the concept of Knowledge-based verification. 
So, the security protocol, previously known as Knowledge-based Authentication, is replaced by Knowledge-based Verification. Let us go further and see the aspects of KBA and KBV and their differences:
The US Government Agency, NIST, is responsible for setting security and other standards for promoting a healthy, safe and legitimate experience in every business in the public interest. NIST works under the commerce department.
Regarding online notary services, the NIST has replaced Knowledge-based Authentication with Knowledge-based Verification. 
What is KBA: Knowledge-based Authentication
Knowledge-based authentication is the identity-verifying security protocol followed by a remote online notary service provider for verifying the authenticity of clients and signers. In this authentication process, the remote online notary service provider will test the user with a series of personal questions before granting the user access to the user's account. Their account will possess sensitive data, and this measure is a safety-ensuring protocol.
Singers provide their personal information to the online notary service platform while making their accounts. These questions are personal, simple and straight, like those password recovery questions you answer for your Gmail account. There will be a range of questions provided as a list to the user. Now, from the list, the user will select a few questions as needed and answer them. Now, the security protocol ensures that every user shall answer one or more such questions every time the user tries to log in to their respective account on the online notary service platform.
The Knowledge-based authentication protocol is a fraud-preventing strategy which helps in successful account obtaining prevention when the users lose their passwords and when others try to get unsolicited or unwarranted access to the users' accounts.
What is KBV: The Knowledge-based Verification
Knowledge-based verification involves using public or the user's information that is not provided to the online notary service platform. Such personal questions shall be answered by the users to have permitted access to their user accounts. Even knowledge-based verification is a security measure that helps protect users' existing accounts with the virtual notary platform.
This is different from knowledge-based authentication. Here, the range of questions goes beyond the information the user offers to the virtual notary service platform. For example, when you are taking out a credit card or any mortgage loan online, you need to face some personal questions to move forward. Those questions are curated from your financial and public records. This method has more profound levels of security than knowledge-based authentication.
Difference Between Knowledge-based Authentication [KBA] And Knowledge-Based Verification [KBV]
While both are security protocols, the major difference is the range and depth of questions that users must face in each approach.
In KBA, users face questions that are within the range of information they have provided to the platform.
In KBV, users face questions beyond the information they might have provided to the platform.
In KBV, the depth of questions is far deeper, ensuring far more security and authentic protection.
Those questions that only you can be aware of the answers to will be presented to you as part of Knowledge-based verification.
So, the KBA is replaced by KBV to offer better-secured access to the users' accounts and their sensitive data.
eNotary On Call Promises Fortified Security for Remote Online Notarization
Remote notarization has become a far more secure and relieving event with the excellent security measures that eNotary On Call is providing to its users. So, if you are looking for a swift, 100% secured and seamless virtual notarization service, opting for eNotary On Call is the best way.