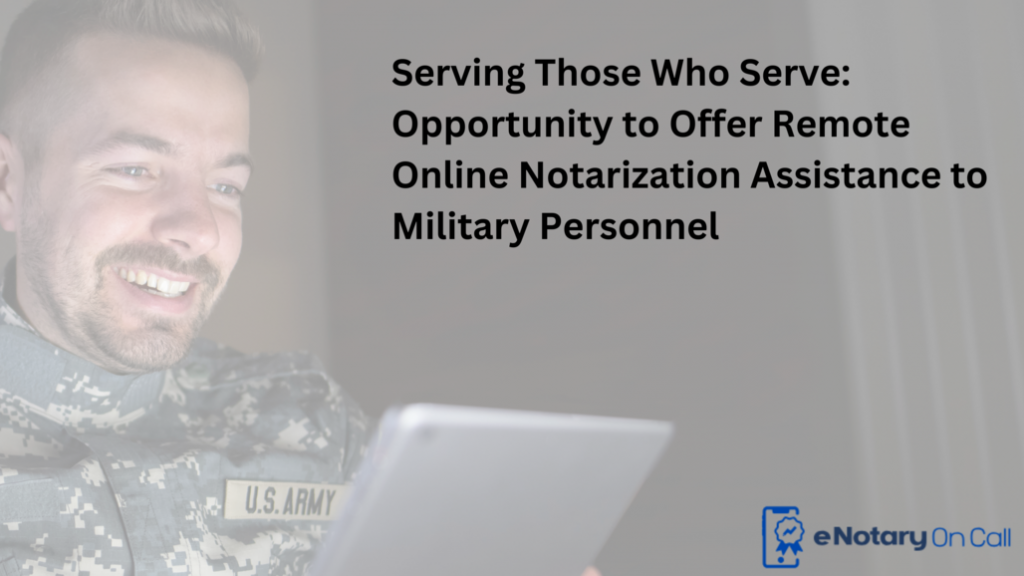 What can be more rewarding and satisfactory to yourself than offering one of the essential services to military personnel? No doubt, serving the military community in any way feels proud. Evidently, in military service, there are many documents verification and authentication takes place. For this, servicemen must take their time out and look for notaries to complete the process in their limited rest and recreation hours.
For notary officials, this brings an opportunity to build an effective strategy and offer the right solutions to servicemen. They face different challenges while notarizing their essential documents that a step-by-step approach can overcome.
What Notary Officials Have to Keep in Mind While Providing Remote Online Notarization Services?
Better Understanding
The foremost task includes understanding the specific requirements of both personnel and their family members. These needs are inclusive of their schedules to legal formalities to process after and before submitting the necessary documents. Thus, the notaries have to take the step of customization in terms of hours and document lists for such signers.
Convenient Services
There is no doubt that servicemen have to strictly adhere to their schedules. Thus, their appointment time and hours need unique customization for particular days. Notaries can also offer their flexible availability time options to military personnel, which in turn improves notary revenue generation, too.
Military Related Material
While providing the remote online notarization service to military personnel, the notaries have to first hand be prepared with the necessary details to put front. They should curate the list of documents for notarization, a list of papers to verify identity and other power of attorney documents.
Military Discount
Consider extending special military discounts for remote online notarization services as a token of appreciation for the dedicated service of military personnel. This not only fosters goodwill but also acknowledges their commitment, making the notarization process more accessible and supportive for those serving in the armed forces.
Online Easy-to-Understand Notarization Platforms
Offer and utilize secure, user-friendly digital platforms to ensure seamless document authentication, enhancing accessibility for service members stationed worldwide. Prioritize platforms with robust security measures such as KBA and compliance to facilitate efficient and reliable notarization processes in a remote environment.
Regulations Update
Regulatory updates are crucial for notary officials conducting remote online notarization (RON) services for military personnel. Stay abreast of evolving laws governing RON, ensuring compliance with military-specific regulations. Regularly check for amendments or additions to existing notarial guidelines to maintain the highest standards of legality and security in serving the military community.
In conclusion, embracing the opportunity to provide remote online notarization services to military personnel is not only a professional endeavor but also a heartfelt contribution to those who serve. By tailoring services to their unique needs, offering discounts, and staying vigilant on regulatory updates, notary officials can streamline the often intricate notarization processes for servicemen. This commitment not only enhances accessibility but also honors the dedication of our armed forces, making the notarization journey a supportive and efficient experience for those who safeguard our nation.