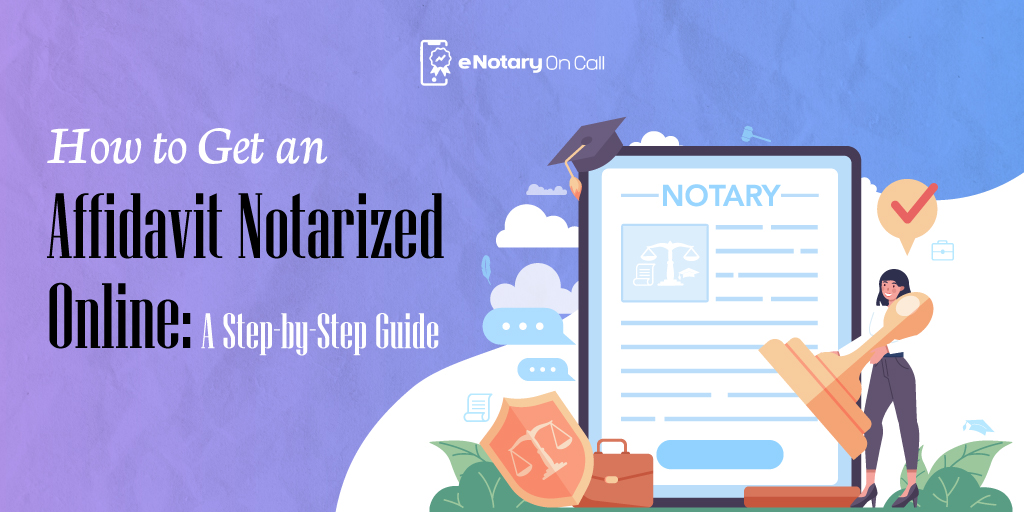 With online notarization, getting an affidavit notarized has become more accessible than ever before. Whether you need to swear an oath for legal purposes, business transactions, or personal reasons, this digital solution simplifies the entire process saving you time and effort. 
In this article, you will find instructions for obtaining an affidavit online, ensuring it's hassle-free and legally binding.
Understanding an Affidavit
An affidavit is a written statement made by an individual under oath confirming the truthfulness of the information provided. Affidavits are commonly used in legal proceedings, real estate transactions, and various official matters.
Streamlining Affidavit Notarization With eNotary On Call
Traditionally, affidavits required the presence of a notary public to witness the signing and confirm the affiant's identity (the person making the statement). Online notarization has streamlined this process. 
Affidavit online notarization is gaining popularity in the USA, especially in states like Florida, Texas, New York and Illinois, where eNotary services make the process quick and convenient.
To ensure your affidavit is legally binding, it's essential to know how to make an affidavit notarized through a reputable online notary service. For a reliable and convenient solution to notarize affidavits online, consider using eNotary On Call, a trusted online notary service provider. It ensures the legal validity of your documents with ease and efficiency. You just need to sign up, upload the document, connect with the notary, and get the affidavit notarized instantly. 
When seeking the cheapest online notary, it's essential to explore options that provide cost-effective affidavit online notarization services, including those available in Florida and across the USA. eNotary stands out as the preferred choice, having successfully notarized numerous affidavits, and earning high customer satisfaction.
The Ultimate How-To Guide to Obtaining an Affidavit Online
If you're wondering how to make an affidavit for a name change or need an online affidavit for a birth certificate, this step-by-step guide will walk you through the process.
1. Choose a Reputable Online Notary Service
Select a trustworthy online notary service like eNotary On Call that complies with your state or jurisdiction's regulations. And ensure the platform offers online affidavit notarization services. 
2. Create an Account
Sign up with all the required details. Verifying your identity may require personal information and identification documents.
3. Upload Your Document
Scan or upload your affidavit document to the platform. Format and size requirements should be met for the document.
4. Schedule a Virtual Appointment
Schedule a virtual appointment with a notary public. Set up a best time and date for the meeting.
5. Verify Your Identity
During the virtual meeting, the notary will use various methods to verify your identity, which may include KBA (Knowledge-Based Verification), checking your ID, or using biometric data.
6. Sign the Affidavit Electronically
Using the platform's tools, you'll sign the affidavit electronically. This digital signature is secure and tamper-evident.
7. Witnessed by the Notary
The notary will witness your signing of the affidavit through a video conference. They may also ask you to verbally confirm the document's content.
8. Notary Seal and Stamp
After verifying your identity and witnessing your signature, the notary will affix their digital seal and stamp to the document. This signifies the document's authenticity.
9. Receive the Notarized Affidavit
The notarized affidavit will be sent to you electronically once the notarization process is complete. It is now legally binding.
If you're asking yourself, "Where can I get an affidavit near me?" eNotary On Call online notary services offer a breezy solution that allows you to notarize your affidavit from anywhere, eliminating the need to search for a physical location. 
Frequently Asked Questions (FAQs)
1. Is an online notarized affidavit legally valid?
Yes, online notarized affidavits are legally valid in many jurisdictions as long as they comply with local laws and regulations. Always check with your specific jurisdiction for confirmation. Discover the simplicity of obtaining your affidavit online in the USA with eNotary On Call, the trusted service that streamlines the notarization procedure for your comfort. 
2. Can I use online notarization for international documents?
Yes, online notarization can be used for international documents. The document must, however, adhere to the relevant legal requirements of all relevant countries.
3. How much does online notarization cost?
Notarization online is much more affordable than traditional notarization. For just $25, we can legally stamp your document.
4. What types of documents can be notarized online?
Many types of documents can be notarized online, including:
Affidavits: Sworn statements used in legal proceedings.
Contracts: Agreements between parties, such as business contracts and rental agreements.
Real Estate Documents: Deeds and mortgages.
Financial Documents: Loan agreements and powers of attorney.
Legal Forms: Wills, trusts, and estate planning documents.
Medical Documents: Healthcare Directives and Medical Consent Forms
Government Forms: Passport applications and immigration documents (where allowed by law).
Business Documents: Partnership Agreements, and Business Contracts
Educational Documents: Transcripts and diplomas (where permitted).
Personal Documents: Consent forms, permission slips, and more.
Always check the specific regulations in your jurisdiction to ensure the document you need notarized can be done online, as some documents may require physical notarization.
5. Is online notarization secure?
Top online notary platforms implement stringent security measures to protect the integrity of the notarization process and the documents involved. eNotary On Call is a trusted and secure online notarization service that simplifies 'how to get an affidavit online in the USA,' offering a protected and easy-to-use platform for your document notarization needs. 
Get Your Affidavit Notarized in just 15 minutes!
Obtaining an affidavit online is a modern and efficient way to fulfill legal requirements. With the comfort, reliability and cost-effectiveness offered by eNotary On Call Remote Online Notarization services, you can complete the process from the comfort of your home or office, saving time and ensuring the document's legality at the best price. 
eNotary On Call is the answer to the question, "Where can I find an affidavit near me?" Our affordable Remote Online Notarization service brings the notary public to your location through a secure virtual platform. The audio-video meeting will be organized between you and the online notary, and your document will be notarized right away.  
So why wait? Get Notarized NOW!