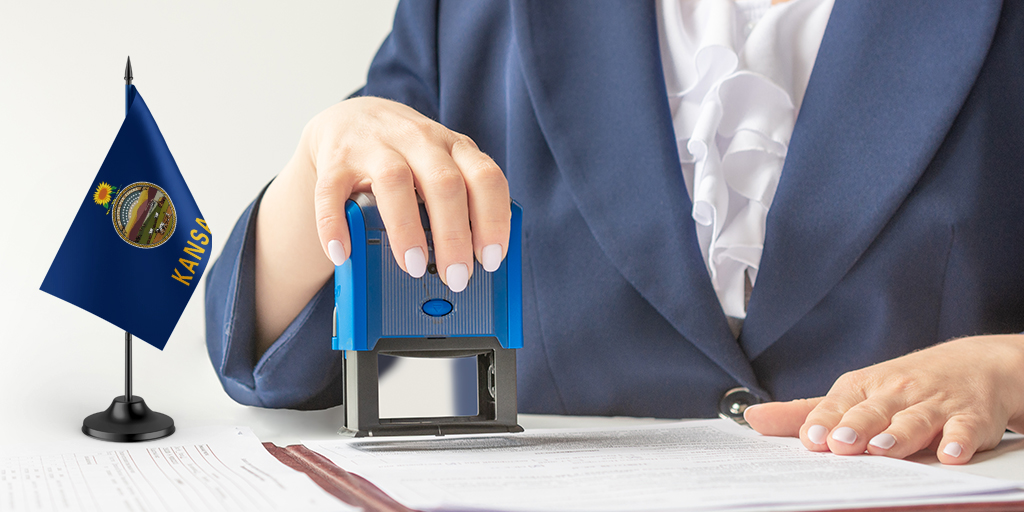 The world of notarization is evolving, and eNotary On Call is at the frontier of this progressive journey. We are thrilled to announce a significant expansion of our services as we open our doors to notaries from the great state of Kansas, starting from 1st July. 
This exciting development propels eNotary On Call as a leading provider of Remote Online Notarization services, connecting individuals and businesses across Kansas with the convenience and security of digital notarization. 
Join us for hassle-free and safe document authentication, unlocking new horizons for notaries and clients.
Experience the Future of Notarization
eNotary On Call is a secure and affordable Remote Online Notarization (RON) platform. Our cutting-edge technology enables people to have their important documents notarized conveniently from anywhere via mobile, laptop, or tablet. 
With just a few clicks, clients can access our intuitive platform, connect with a highly qualified Kansas notary, and complete their notarization needs effortlessly. Our solid customer base speaks volumes about the quality and satisfaction we bring to our clients. With countless satisfied and happy customers, we take pride in delivering exceptional eNotary services that meet and exceed expectations. Join our platform and experience the convenience. 
Our tamper-proof platform, economical prices, and easy process have helped us earn the trust and loyalty of our valued clientele. You can rely on eNotary On Call for a smooth notarization experience that leaves you and your customers thoroughly satisfied.
Benefits for Notaries: Why Choose eNotary On Call
1. Broadening customer base: It opens up a world of opportunities for Kansas notaries. You can transcend geographical limitations and cater to clients from all corners of the state.
2. Boost Your Efficiency: Notaries can supercharge their productivity by eliminating time-consuming commutes and paperwork. The streamlined digital infrastructure allows you to manage appointments, documents, and workflows seamlessly, enabling you to perform multiple notarizations efficiently in a single day.
3. Embrace Unparalleled Security: With our Remote Online Notary services, you can rest assured that your clients' documents are safeguarded with state-of-the-art security measures. Encryption and multi-factor authentication ensure that each notarization is conducted with the utmost integrity and protected against fraudulent activities.
4. Experience Flexibility and Convenience: Break free from the traditional confines of office space. As an eNotary, you can work on your own terms, whether from the comfort of your home, your favorite café, or even while traveling. The flexibility offered by eNotary On Call allows you to schedule appointments at your convenience, empowering you to maintain a healthy work-life balance.
5. Amplify Your Earning Potential: By using eNotary services, you open up new avenues for increasing your income. With a broader customer reach and efficient processes, you can take on more clients and maximize your earning potential. Remote Online Notary platforms often offer competitive compensation, ensuring your valuable expertise is duly rewarded.
Don't miss out on the chance to uplift your notarization career and elevate your professional journey to new heights of efficiency, security, and success. Seize the opportunity to shape the future of notarization in Kansas and beyond.
How to Start Performing Online Notarization?
Notaries can start performing Remote Online Notarization in the following ways:
Register with eNotary On Call
Kansas notaries can Sign Up on the eNotary On Call website or mobile app. The registration process involves providing necessary information and verifying credentials.
Set up Profile and Availability
Notaries create a profile that showcases their qualifications, experience, and availability. They can customize their schedule based on their preferences and update it regularly.
Accept Appointments
Notaries receive appointment requests through the eNotary On Call platform. They can review the details, including the document to be notarized, and accept or decline the appointment based on their availability.
Conduct Virtual Notarization
At the scheduled time, notaries connect with the client through a secure video call on the eNotary On Call platform. They verify the client's identity, witness the signing of the document electronically, and apply their electronic seal and signature.
Complete Notarization Process
After the virtual notarization is complete, notaries ensure that all necessary fields are properly filled out and that the document is securely stored in the system. They provide the client with a digitally signed and sealed copy of the notarized document.
From real estate transactions and legal documents to financial agreements and healthcare forms, we cover a wide range of industries and document types, ensuring a seamless and legally binding notarization experience.
Our dedicated team will guide you through the entire process, making document authentication faster and more accessible.
Take Your Notary Career To New Heights With eNotary On Call – Sign Up Now!
eNotary On Call's inclusion of Kansas notaries in our services starting from 1st July presents a promising opportunity for notaries to enhance their professional capabilities, expand their client base, and streamline their notarization process.
With Remote Online Notary services, notaries can benefit from increased efficiency, flexibility, and earning potential. Joining eNotary On Call allows notaries to adapt to the digital age and provide convenient, secure, and reliable notarization services to individuals and businesses across Kansas. Together, we can shape the future of document authentication in Kansas and beyond.
Be part of the digital notarization process today and experience the benefits of Remote Online Notarization. Sign Up!