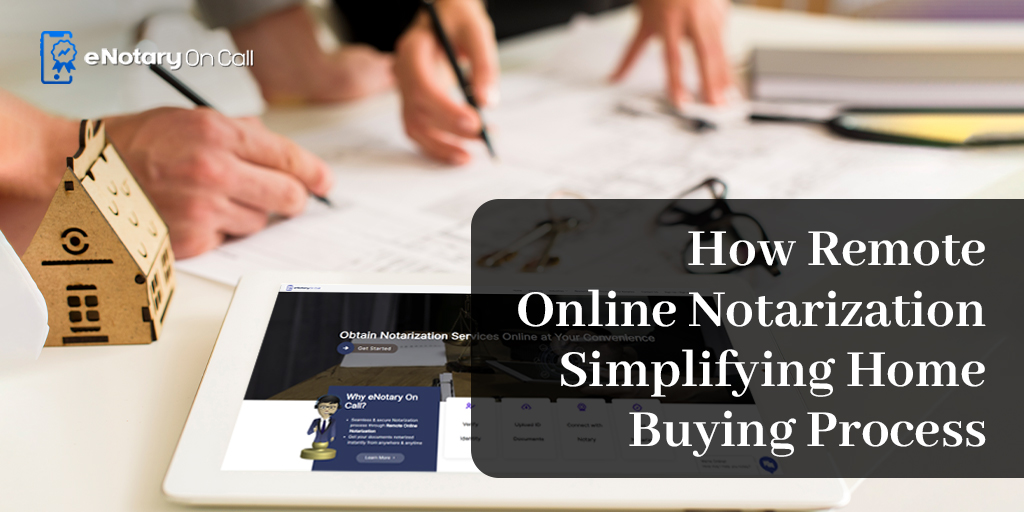 Finding and finalizing a house itself is a tiresome process. Fortunately, if you finally get sure about your dream home after a lot of house hunting, then comes never-ending legal procedures and paperwork. In the digital era, where even visiting many houses has become accessible with a virtual tour, some closing deal still requires in-person meetings and signatures.
However, to take some stress away, the modern approach of the notarization process is now being utilized by many. Remote online notarization allows both signers and notaries to share the platform without making a lot of movements and get digital signatures.
Clearly, this is becoming one of the go-to solutions for the notarization problem for everyone looking for quick and reliable notary service. The introduction and legal permission in different parts of the States have improved the closing deals in the housing industry by more than 150%. Eventually, it is making people house owners in less than usual days and time that the traditional notarization process takes. Therefore, when someone is looking for a home for themselves and their family, choosing a trusted remote online notarization platform also becomes crucial to moving to a new place in less time.
Documents That Can Be Notarized Using RON Platforms For Buying House
A few documents require notarization to own the keys to the house. The list is following:
Deed
Mortgage
Deed of Trust
Borrower Affidavit
Name Affidavit
Security Instrument
For this, it requires two easy steps.
Locate Notary
The primary and foremost requirement for document notarization is looking out for registered notaries. They verify your identity and thoroughly check documents to put the signature on the papers. The traditional notarization process involves in-person meetings.
Pay Fee
The total cost that the buyer will pay will not only be confined to property rates and additional taxes. But also the notarization fee. In comprehensive, the traditional notarization process will also incur the travelling expenses one will pay to reach the office, along with notary charges and appointment costs.
Undoubtedly, traditional notarization demands both effort and time. Thus, to make the above process easy and time-saving, online notary services are the right option. 
How RON Helps in Simplifying Notarization to Buy Home
As the remote process is a convenient option, it has become a popular choice among people. It is proving beneficial in a number of ways. Therefore, we are providing here insights on how this is simplifying buying a home. 
Benefits Real Estate Agents Too:
Not only the buyers but real estate agents also choose to close the deals quickly and prefer virtual notary platforms. This is making it easy for them, too, for an inspection and partnering with trusted buyers and official notaries for error-free document work. Therefore, clients who are readily investing their time and cost in remote notaries are undoubtedly their preferred customers.
Experience:
Any buyer would want to avoid adding a tiresome or hassle experience when buying a house. Remote online notarization undoubtedly eases the process and offers a satisfactory and comforting experience. It also reduces commute expenses and lets the signer pay only the notary fee, which counts as a minimum compared to the combined amount spent on travel to the notary office and the notary fee.
Flexible Agent Appointment Schedule:
Virtual notary services offer flexibility to buyers to reach out to the notaries. They are available online during unconventional office hours, too. This allows signers to schedule and prioritize every critical task in a day to have all documents notarized in the day. And, in case there are some records that one missed once, schedule the appointment another day or the next hour, making the remote online notarization a convenient option.
In a Nutshell
RON platform, which allows document notarization at any hour of the day from legal notary service providers, is making the process of buying a home easy. In the traditional method, which usually consumes resources, time and costs, a virtual notary can be a wise choice to make to own the key sooner. Utilizing the best platforms allows the lists of documents uploaded before and while being on the document notarization call. 
There is no doubt that remote notarization is now legally permitted in Florida, New Jersey, Texas and the list of States. This subsequently is making both RON and buying home seamless procedure.