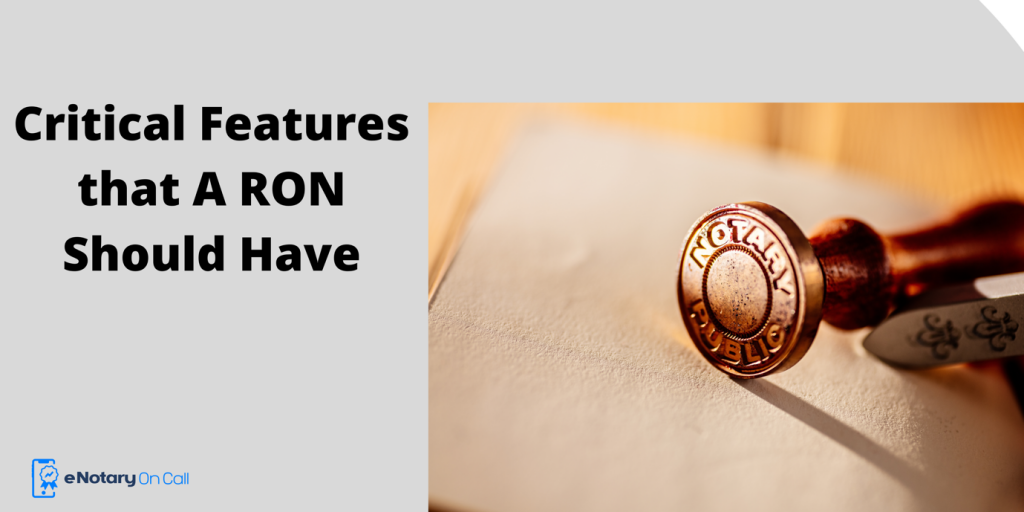 Notarization, the legacy in-person, and paper-based process has undergone a recent digital transformation, thanks to the advanced Remote Online Notarization technology. In more than 35 states in the U.S. Remote Online Notarization has been streamlined and others already have passed exclusive orders or legislation permitting online notarization during the time of the COVID-19 pandemic. With the rising popularity of Remote Online Notarization, a lot of companies have already started exploring the potential of different online notarization platforms to save time, improve user experience and mitigate all the security-related issues.
When it comes to choosing a remote online notarization platform online, you should check your state's requirements in addition to considering the key features of the platform.
This article provides you with the checklist to shortlist a RON platform that meets your state's and your organization's requirements.
Key components to consider when choosing a Remote Online Notarization platform-
There are several features that a comprehensive RON should include to provide you with a seamless notarization experience online in accordance with your state's guidelines.
New-generation audio-visual technology:
There are state laws that require notary public, signer, and co-signers (if any) to be present in the notarization process. A RON platform should come up with the real-time audio-visual technology that streamlines the "personal appearance" principle. To ensure optimal security, it should come with encrypted audio-visual technology.
Identity proofing:
A majority of state laws require the notarization platform to perform the two-step identity verification measures – validating a government-issued verification ID and Knowledge-Based-Authentication. The platform should be able to allow the notary to personally attest to a signer's identity.
Electronic notarial journal:
To meet the state's requirement, the platform should be able to record all the notarization sessions through an electronic journal. It enables authorities to determine if the document was altered after notarization or not.
Recording and storage:
A lot of states want the platform to keep the audio-visual recordings of the RON sessions at least for a specific duration.
Electronic signature:
A comprehensive Remote Online Notarization platform like eNotary On Call comes with an electronic signature technology to facilitate the notarization process. it allows signers to sign documents and send them to the notary professional in a real-time environment.
Of course, it is really important to check your state's regulations to know all the full set of requirements. If you are looking forward to having the best online notarization platform then eNotary On Call, the best RON platform in the U.S. This platform allows you to get your documents notarized online within a few minutes only. If you want to notarize documents at the most reasonable price online, sign up eNotary On Call and enjoy the world-class experience.